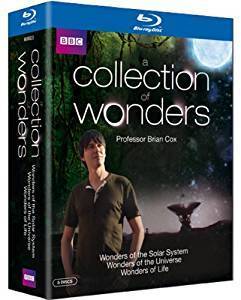 The AUD price quoted is Amazon's price, you may get it for cheaper with using a transaction-fee free credit card which utilises Mastercard/VISA's rates.
A quick search suggests this is the lowest price (lower than previously), or almost the lowest according to three camels. (CamelCamelCamel history: https://uk.camelcamelcamel.com/Collection-Wonders-System-Uni…)
The URL links to the marketplace/buyer selection page. Please make sure you select "amazon.co.uk" as the seller (it is appearing as GBP16.99 incl VAT for me at the moment, but as you add it to basket and subsequently check-out, the VAT should be removed).
For a direct link to the product information: www.amazon.co.uk/dp/B00AREP9Y6/
ABC shop currently sells it for $44.99 in Australia: https://shop.abc.net.au/products/wonders-collection-of-5bd
—-Description copied from Amazon.co.uk—- (I don't own any of the work of description in this page)
A triple set of BBC documentaries presented by Professor Brian Cox. 'Wonders of the Solar System' (2010) focuses on such phenomena as Saturn's rings, the solar flares of the Sun and the deserts of Mars to demonstrate how the forces that shaped our world are also responsible for creating some of the most breathtaking sights in our solar system. In the follow-up series, 'Wonders of the Universe' (2011), Cox continues his exploration of the universe and its effect on human life. Vast, complex and almost infinite, the universe has been the subject of human fascination and scientific exploration for thousands of years. Its properties can seem impossible to grasp, but this series uses the evidence found in the natural world around us to explain the fundamental principles that underpin the laws of nature such as light, gravity, matter and time. Finally, in 'Wonders of Life (2012) Cox tells the story of the origins and history of life, from the fundamental laws which govern its creation, to the myriad species that populate our planet. Tracing how light, gravity, time, matter and energy combined 3.7 billion years ago to begin a process which ultimately led to the huge diversity of life we now have on Earth, Cox visits locations around the world to reveal how life came to adapt and develop in the most unusual and unexpected places.
---
I personally actually haven't seen the documentary, and not sure how up to date the information is for now. Nonetheless it still seems to be a great collection of works.